Pillowcase Kit Building for Community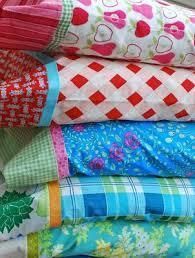 Community Projects - Each year The Sewing Labs offers many community sewing projects that is supported by the Volunteer Sewists in our community. Kits are built with all the components needed to that 'at-home" sewists can pick up a kit, take it home to stitch and return it to be distributed where the need is.
Come volunteer to help build kits on September 6th from 1-4. Materials will be available. If you want to supply additional fabrics we welcome you donation.
The Sweet Dreams for Seniors is our pillowcase project that we have been doing since 2017. Each year we support estimated 500 low income seniors in local senior centers with a gift of a set of pillow cases. One (1) for everyday and one (1) in holiday fabrics. We add a holiday greeting card and wrap it in ribbon. This simple gift is our way to let these individuals know that their community is thinking of them and wishes them a joyful holiday season.
The fabrics used for these pillowcases come from the generous donation of the supporters of The Sewing Labs. Each pillow case takes 1.125 yds. (3/4 yd. for body + 1/3 yd. of band) We select coordinating fabrics from the many textiles that are donated to us and if needed reach out for more to complete this project.
Pillowcase in 2023 will be ready for pick up during September and October until gone and need to be brought back completed by November 20th, 2023.