Please enjoy reading the stories of some of our graduates!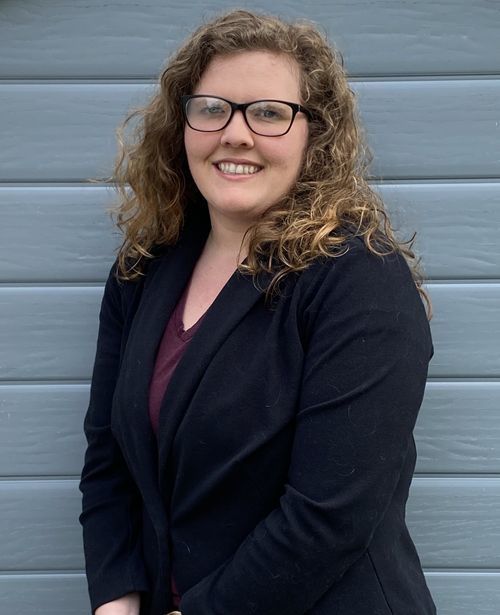 Lindsey's story
Lindsey was very little when she first started to sew. "My mother and my grandmother were both quilters. While I learned how to sew, I was kind of rebellious, in the sense that I did not initially want to learn how to sew, because it was something that my mother and my grandmother did,  and I wanted to do the rebellious child/teenager thing."   But Lindsey wanted to get her skills a little more honed in and more fine-tuned. Lindsey wanted to achieve that perfection that all sewists are looking for. "My Mom recommended The Sewing Labs to me, as she had a good friend that would volunteer at the old location. 
Lindsey first realized that she could make her living as a stitcher when she began getting really involved in the industrial side of The Sewing Salon training program and taking entrepreneurial business sessions as part of that program. Lindsey says,  "it took me getting to a comfort level with the industrial equipment and talking with people who were encouraging me  to become an entrepreneur."  This became very evident for her during  the pandemic. Lindsey says, "I was working hard at developing my sewing skills and people were telling me that I could make money with it. Make a life. And I thought ok well I will give it a shot."
Lindsey officially launched her business called KC Sewing, a locally focused, cut and sew contract business that focuses on our local, home-made makers around town. Her main clientele is the crafter that one sees at a craft fair, who is super, super successful and always has all kinds of products. I am helping all those craft fairs vendors with a cut and sew model.  
Lindsey says "The most important aspect of The Sewing Labs is the people and the community that has developed in and around the organization. There are so many different people, from so many different walks of life, hanging out, sewing together. It warms my heart knowing that I can come to The Sewing Labs with a big project to do or nothing at all and come as I am and know I am always going to be inspired and welcomed."
---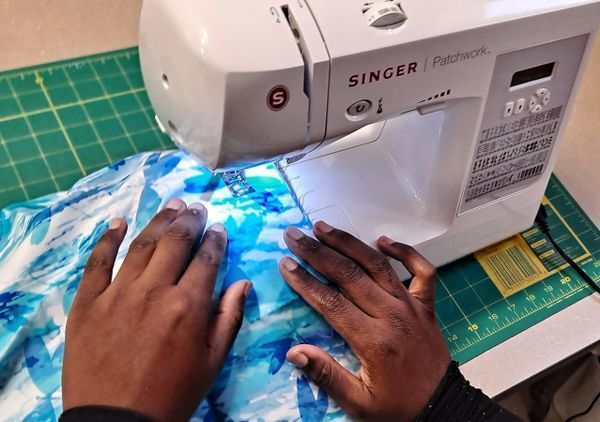 David's story-
David first realized his love for sewing during his childhood. As a young boy, growing up in the New York area,  he had a beloved teddy bear. One day his teddy bear's  jacket ripped,  it was an older family friend that taught him how to mend the jacket by hand stitching it back together with a needle and thread.  David said, "My mother and my grandmother both influenced my love of sewing as well. My mother had made some pieces for me when I was younger, like a quilt just for me."
David first seriously considered sewing as a career in his early teen years.  "I was thinking about a career in sewing. "I had always been around people who sewed, and knew it was possible, but then I really started chasing after it about 8 years ago, when I earnestly started to pursue a career in sewing. I started looking into different training programs and found The Sewing Labs." David was connected to Newhouse Shelter here in Kansas City, and they encouraged him to write a letter of purpose to The Sewing Labs about his desire to enroll. After writing this letter, David was invited to come visit The Sewing Labs and learn about our programs.  After taking a tour, David thought, " if I really want to do this and have this plan for my life, I need to be able to get training that will take me to the next steps."
David was asked what his favorite thing about The Sewing Labs has been.  " For me, it is the resources here to support me,  like access to the teachers. Having a safe space to learn and develop my skills. The Sewing Labs has helped me see more of a future for myself. I am so supported here. 
David's goal now is to become a tailor or a fine suit maker, either working in the US or in Europe. With the fundamentals under his belt, David says, " Now I want to really develop my skill for tailoring and develop the eye that is necessary, develop the proficiency that is needed. 
When asked why he feels that people should support The Sewing Labs, David says, "It is most important for supporters of The Sewing Labs to understand, there is no other program like The Sewing Labs in the country that offers support like this. It is not a Chi-Chi environment; it is a welcoming one."
---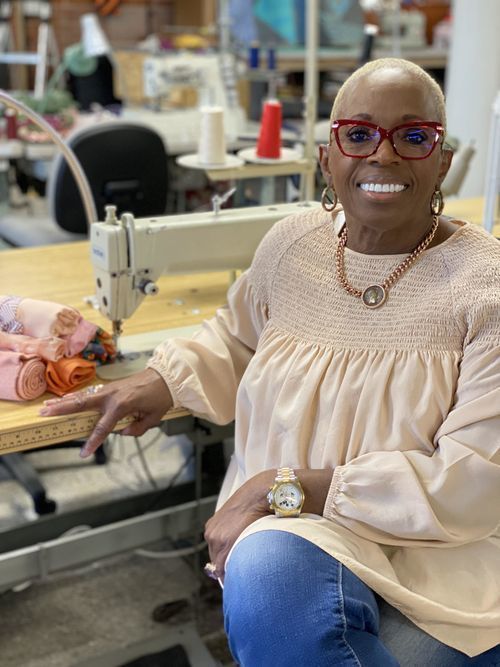 Gwen's story
Gwen grew up during the time when home economic classes were still offered in schools.   She was raised by her grandmother,  and Gwen and her sister both had to take sewing courses from 9th grade to graduation.  Gwen learned about The Sewing Labs training program from one of her very best friends who had attended a meeting of professional businesswomen.  Gwen remembers, "I finally had a friend complete the dress with me. And we laugh about it today." Gwen says she did not realize how much she did not know about sewing, until she got in the room at The Sewing Labs. Gwen recalls how incredibly helpful everyone was with her when she first started classes on the domestic machines. Gwen's experience with The Sewing Labs has had an awesome impact her life. Gwen says, "People are their own worst critic. Being in The Sewing Labs programs made me realize you're never too old to learn. I kept doubting myself, whether I would really be able to do this. The Sewing Labs increased my confidence, by 1000%"
Gwen thinks The Sewing Labs is a thought out and very well-rounded program that teaches you via a wholistic approach, not just sewing. Gwen learned how to communicate with others, the importance of owning your mistakes and being accountable. Everyone in the building was uplifting for me and encouraging with me, it was an awesome experience." Gwen explained.  Gwen advises anyone thinking about joining the programs at The Sewing Labs, " It is an incredible opportunity that you are missing out on. 
"All along, I said, once I was certified, I would find a part time job, and I am currently looking into factory work,  so I can increase my speed and learn all about the industry." Gwen is grateful for all the tours of different sewing business while in session at The Sewing Labs.  Gwen met Laura Treas, founder, and owner of the KC Sewing Company/Fashion Tech,  during one of The Sewing Labs industrial classes, Gwen said. Now with Laura,  I am learning deeper, more detailed information about the industrial sewing business.
---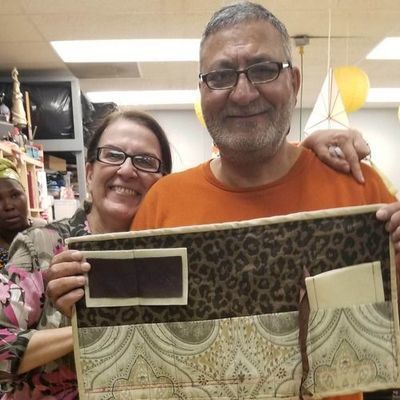 Sewing Makes Our Hearts Sing 
In 2009, Khalid & Fatin, a married couple, emigrated from their war-torn country of Iraq to the United States. They were both highly educated individuals in Iraq, however those degrees did not transfer to the US. They finally found the Don Bosco Center and enrolled in the English as a Second Language course. As part of that ESL course, they were able to enroll in The Sewing Labs' Sewing as a Universal Language program. In the process of learning to sew, Khalid & Fatin
tapped into and allowed their left brains to flourish. Fatin said they were focused on their lives in the right brain functions of math, science and engineering, however it was no longer fulfilling since they couldn't be employed with those skills. After graduating from the sewing program at TSL, Khalid & Fatin set up a small sewing studio in the basement of their home. They are now focusing on garment construction and speak of the sheer joy and happiness they now have in their lives thanks to their newly developed skill of sewing. "Sewing makes our hearts sing," Fatin says of their experience with The Sewing Labs. "Because of The Sewing Labs, we have visited employers in the Kansas City area who are actively seeking people like us; people who have been trained on the machines these businesses use. Thanks to The Sewing Labs, we now have many ideas of items we can sew and sell, putting us in the business of being entrepreneurs. 
That is our American Dream!
---
---